X-Files cookies
A recipe from
cooking-ez.com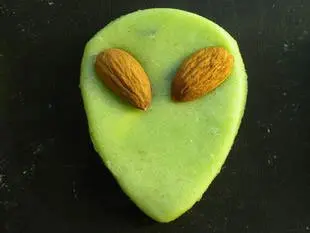 For 20 cookies, you will need:
Times:
| Preparation | Resting | Cooking | Start to finish |
| --- | --- | --- | --- |
| 1 hour 5 min. | 2 hours | 30 min. | 3 hours 35 min. |
Step by step recipe
1: Put into a food-precessor bowl: 125 g flour, 50 g icing sugar, 100 g butter cut into small pieces, 1 egg, 1 pinch fine (or table) salt, 5 drops food colouring, and the juice and zest of 1 lime.
2: Knead on slow speed until evenly mixed.
3: Tip the dough out onto a sheet of stretch plastic film.
4: Fold the film over and press the dough into a flat cake.
Refrigerate for 2 hours.
This cooling time is essential as the dough is very soft at room temperature. The time in the fridge will firm up the dough.
5: After this time, roll out the dough with a rolling pin to just under 1 cm (0.4 inch) thick.
6: Now comes the tricky momnt: cutting out the "alien" shapes. I used a calisson cutter for the pointed end.
7: Then I cut the top of the head using a normal round cutter.
But you can cut them out perfectly well with a small knife.
8: Shape the rounded part if necessary by pushing around the edge with your finger.
9: Make the eyes with 2 whole almonds, the pointed end towards the centre. Press them lightly into the dough to make them stick.
10: Use up all the dough like this, placing the cookies on a baking sheet as you go.
Preheat the oven to 180°C (360°F).
11: Put the offcuts onto a baking heet, shaped or not. Here I've made Star Trek logos (yes, I know, this is an American TV series recipe...).
12: Bake for around 30 minutes. Watch carefully for colouring towards the end of the cooking time to keep the lovely green colour. So don't overcook them.
Remarks
Green is the obvious colour to use, but they look good in pink, too (in which case, leave out the lime).
---
September 25th 2021.