Crème de foie gras
A recipe from
cooking-ez.com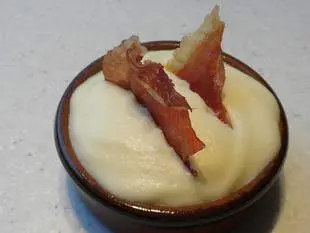 For 4 people, you will need:
Times:
| Preparation | Resting | Cooking | Start to finish |
| --- | --- | --- | --- |
| 33 min. | 2 hours | 1 hour | 3 hours 33 min. |
Step by step recipe
1: Pour 250 ml liquid cream, 10 ml Brandy (Cognac or Armagnac) and 10 ml Port into a pan on low heat. Add 1.5 g salt, 0.5 g pepper, 1 pinch "Quatre-épices" spice blend and 125 g raw foie gras cut into pieces.
Heat gently until the foie gras has completely melted.
2: Blend the mixture thoroughly and check seasoning.
3: Strain the resulting liquid through a sieve. Clean the pan and pour the liquid back into it.
4: Add 2 egg yolks and beat thoroughly to mix well.
5: Blend again briefly if necessary.
Preheat the oven to 110°C (240°F).
6: Divide the mixture between the ramekins and put in the oven in a bain-marie (as for a crème brulée).
7: As soon as the creams are cooked, remove from the oven and leave to cool to room temperature, then refrigerate for at least 2 hours.
The preparation and cooking to this stage can be done in advance, even 1 or 2 days beforehand.
8: Peel and rinse the potatoes, then cut into thick slices.
Boil in salted water until soft.
You will need 130 g potatoes after cooking.
9: Pour 70 ml liquid cream into a pan on low heat with 70 ml milk, 20 g butter and the cooked potatoes.
Bring to the boil, then blend thoroughly.
Check seasoning.
10: Pass the potato cream mixture through a sieve or fine strainer, then pour into a cream whipper.
Pierce 2 gas cartridges and shake well.
Note: if you have a basic cream whipper (i.e. not insulated), wrap it in a tea towel, or you risk burning yourself as the contents will be very hot.
11: Make the crispy ham by frying morsels of serrano in a very hot frying pan without any added fat. fry on both sides until crisp.
12: Assemble the creams: to each ramekin (they should be really cold), add a layer of hot espuma of potato and stick 2 pieces of ham into the top.
Serve immediately.
Remarks
You can use either cooked or raw foie gras: if you use raw, it is even better if you can season it the day before, as for the
terrine of foie gras
.
If you do not have a cream whipper, you can replace the espuma with a little creamy potato purée.
The creams can be served in verrines rather than ramekins for a "posh restaurant" touch.
---
September 26th 2021.