Mexican salad
A recipe from
cooking-ez.com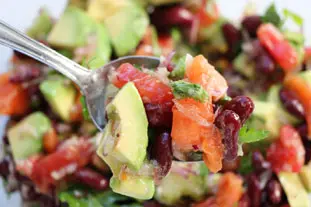 For 4 people, you will need:
Times:
Step by step recipe
1: Rinse and drain the 250 g tinned red kidney beans and dry in a tea towel.
5: Add the red beans and tomatoes to the bowl...
6: ...and add the chopped parsley.
7: Prepare the dressing by mixing 3 tablespoons lime juice, 3 tablespoons olive oil, 1 teaspoon Tabasco sauce, salt and pepper.
8: Pour the dressing into the bowl and mix well.
Your Mexican salad is ready.
Remarks
Give the dressing more of a distinctive flavour by adding a little lime
zest
.
---
January 20th 2022.