Multicoloured cucumber-tomato salad
A recipe from
cooking-ez.com
100K
4.2
September 16
th
2012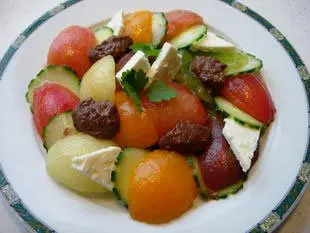 For 4 people, you will need:
Times:
Step by step recipe
1: Choose your tomatoes in as many different colours as possible.
2: Peel all the tomatoes and cut into quarters.
Arrange the tomatoes on a wire rack, sprinkle with fine salt...
3: ...on both sides.
Leave to drain.
4: Meanwhile, Peel 1 cucumber and slice thinly (you can groove the skin if you wish first, but this is just for appearance).
Sprinkle with fine salt in batches and mix well to distribute the salt evenly.
5: Cut 100 g feta into small rectangles.
7: Tip the tomatoes and cucumber into the dressing, then mix thoroughly to help the vegetables absorb it.
8: Arrange on a plate, mixing up the colours and placing the feta between the tomatoes.
Pour a spoonful of the remaining dressing over the top and add a little tapenade if you wish.
Remarks
You can vary this recipe to your own taste: add herbs, spices, etc.
---
December 8th 2023.