Mushroom velouté
A recipe from
cooking-ez.com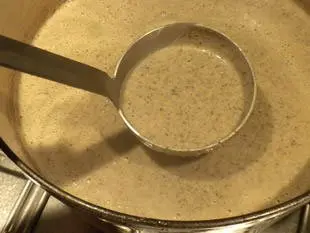 For 6 people, you will need:
Times:
| Preparation | Cooking | Start to finish |
| --- | --- | --- |
| 45 min. | 10 min. | 55 min. |
Step by step recipe
1: Peel and chop 400 g mushrooms.
2: Peel, wash and cut into small pieces around 100 g potatoes.
4: Melt 30 g butter in a large saucepan on medium heat, then add the shallot. Salt, pepper and cook for 1 or 2 minutes.
5: Add the mushrooms and potato and stir well.
Cook for 2 or 3 minutes.
6: Pour in 1 litre water, salt again and bring to the boil. Leave to simmer gently for 5 minutes.
7: Mix 2 tablespoons cornflour with 2 tablespoons of water.
Turn down the heat and blend thoroughly. Add the cornflour at the end while still blending.
8: Finish by adding 150 ml cream and blend briefly to mix well. Check seasoning.
Remarks
It's easiest to use cultivated button mushrooms (that the French call champignons de Paris), even tinned mushrooms, but if you can, use freshly-gathered wild mushrooms, as the flavour will be so much better.
You can also add a handful of dried mushrooms (morels, chanterelles, etc.), simply rinsed. Again this willl improve the flavour, making it not only stronger, but woody.
---
July 13th 2020.