Olive twists
A recipe from
cooking-ez.com
54K
3.9
September 7
th
2018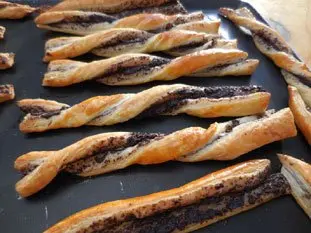 For 20 twists, you will need:
Times:
| Preparation | Resting | Cooking | Start to finish |
| --- | --- | --- | --- |
| 19 min. | 1 hour | 20 min. | 1 hour 39 min. |
Step by step recipe
1: If you are using home-made puff pastry, roll it out thinly (1-2 mm or 1/8 inch) into a large rectangle and cut into 2 equal pieces.
If you are using ready-rolled pastry, as in the photo, cut the circle into 2 equal halves.
2: Spread one half of the pastry with 50 g Tapenade, using a palette-knife.
3: Lay the other half on top.
4: Fold the cooking parchment over the pastry, wrap in plastic film and refrigerate for at least 1 hour (this can also be done the day before).
5: Preheat the oven to 390°F (200°C).
Glaze the top of the pastry.
6: Cut into long, thin strips, then twist them and lay on a baking sheet (though you can leave them flat if you prefer).
7: Bake for about 20 minutes until nicely browned and leave to cool on a wire rack.
Serve warm or cold.
Remarks
The tapenade gives these twists quite a strong flavour, but for a bit of extra punch, pepper them generously after glazing.
---
December 8th 2023.