Small cheese and bacon rolls
A recipe from
cooking-ez.com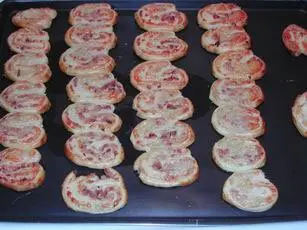 For 30 pieces, you will need:
Times:
| Preparation | Resting | Cooking | Start to finish |
| --- | --- | --- | --- |
| 33 min. | 30 min. | 20 min. | 1 hour 23 min. |
Step by step recipe
1: Put 125 g small pieces of bacon cut in small pieces in a hot frying pan without any fat, fry until browned. Take off the heat and add a tablespoon of vinegar and mix.
Be careful with the vapours which rise: they clean out the sinuses with one blow if you breathe in...
This small accent of acidity brought by the vinegar is important to counterbalance the fat of the bacon. Drain the excess fat and set aside on kitchen paper.
You can, happily, wipe round the frying pan with a piece of bread, it is allowed...
2: Roll out the puff pastry.
3: Then shape and cut into a large rectangle.
4: Grate 125 g Comté cheese on the rectangle, pepper, then go over with a roling pin to embed the cheese a little in the pastry.
5: Spread over it the pieces of bacon.
6: And roll up the pastry quite tightly, to form a large roll.
7: Apply a little cold water with a brush to the last centimetre of the edge to weld the roll.
8: Glaze the top.
Then put the roll in the freezer for 30 minutes to firm up, otherwise it will be impossible to cut.
Preheat the oven at 220°C or 428°F.
9: After 30 minutes in freezer, remove the roll and cut into approximately 1/2 centimetre thick slices, and lay these on a baking sheet, not too close together because they will spread during cooking.
10: Then put immediately in the oven and bake until the circles are golden brown (approximately 15 minutes). Serve hot or warm if possible.
11: This "rolled" form is simplest, but you can make a more elegant shape: "palm" or "wallet". In this case you need to fold up the ends of the rectangle of dough (filled with grated cheese and bacon) towards the middle, twice over, a little like this:
Then brush each side with egg yolk, before putting in the freezer for 30 minutes.
---
October 26th 2020.