Surprise eggs
A recipe from
cooking-ez.com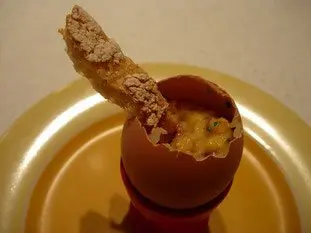 For 4 people, you will need:
Times:
| Preparation | Cooking | Start to finish |
| --- | --- | --- |
| 27 min. | 24 min. | 51 min. |
Step by step recipe
1: Peel 150 g cooked prawns, or little grey shrimps in this case. If you are using larger prawns, cut them into small pieces.
3: Pour 2 tablespoons olive oil into a non-stick pan over high heat. When it's nice and hot, add the chopped shallot, salt and pepper. Cook for 1 or 2 minutes while stirring.
4: Add the prawns and ham, and continue cooking a further 2 or 3 minutes.
One minute before the end of this cooking time, add the juice of ½ lemon and stir well.
5: Break 4 eggs, but in a rather special way: break the shell at the bottom (the rounded end), keeping as much of the shell whole as possible.
This is best done using a broad-bladed knife, as if slicing the top off a soft-boiled egg, by tapping all round the shell.
6: Put the eggs in a bowl and beat with salt and pepper. Cook as scrambled eggs.
7: As soon as they are cooked, add the prawn-ham mixture and the finely-chopped chives.
The filling can be prepared in advance, though it's better to add the chives at the last minute. You will simply need to reheat the mixture just before filling the eggshells.
8: Heat the eggcups as you would plates.
Carefully fill the shells with the mixture. Place a spoonful of filling in the bottom of each eggcup...
9: ...and turn the filled eggshell smartly upside-down on top.
Wipe around the eggcup carefully to keep the element of surprise Serve without delay, accompanied by breadsticks that have been buttered then toasted.
Remarks
If none of your guests have slipped into the kitchen to see you, and in so doing discovered the secret (best shoo them out with cries of "go and sit down at the table, it's nearly ready!"), you'll make a real impression when they crack their shells.
---
January 19th 2021.