The total turnip
A recipe from
cooking-ez.com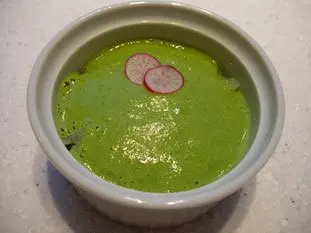 For 6 people, you will need:
Times:
| Preparation | Cooking | Start to finish |
| --- | --- | --- |
| 44 min. | 13 min. | 57 min. |
Step by step recipe
1: Cut the leaves off the 5 turnips .
2: Wash leaves well in warm water.
3: Peel turnips.
4: Cut into small sticks, then into small cubes.
5: Boil a pan of water and add 1 chicken stock cube.
As soon as it comes back to the boil, add turnip cubes, and cook for a minute or two. Turnips should remain a bit crunchy.
6: Once cooked, cool in very cold water, drain and dry them.
Don't throw the water away, boil it again.
7: Rinse and drain leaves, trim stems to keep only nice leaves.
8: Plunge leaves into boiling water for one minute, stir then remove, and cool them in very cold water.
Drain and dry leaves on absorbant paper.
9: Chop 1 shallot.
In a pan, melt 20 g butter.
When it's really hot, add chopped shallot and 2 cloves garlic "en chemise" (un-peeled), salt and cook 2 or 3 minutes without letting shallot brown.
10: Remove and discard garlic cloves, then add turnip leaves.
Cook one or two minutes, stirring continously.
11: Add 100 ml liquid cream, over a low heat and allow to thicken slowly uncovered.
12: Pour in a blender and add pepper.
13: And blend until you get a lovely green cream.
Taste to check seasoning.
14: Reheat diced turnip and ramekins (in microwaves oven for example) and put a layer of diced turnip in each ramekin.
15: Pour on some leaf cream while hot, and decorate with two slices of radish on top. Serve immediately.
Remarks
If you have turnips with nice leaves, don't keep them too long because the leaves droop quickly .
If you don't have turnips with leaves, you can use spinach instead..
[translator's note: turnip (navet in French) is the French term for a complete flop, e.g. a really bad film. The name is a joke!].
---
March 9th 2021.