3-fruit brioche loaf
A recipe from
cooking-ez.com
35K
3.5
September 23
th
2018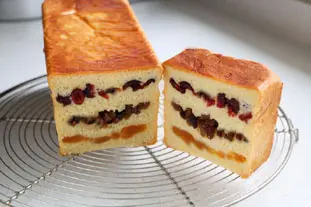 For 1 loaf, you will need:
Times:
| Preparation | Resting | Cooking | Start to finish |
| --- | --- | --- | --- |
| 36 min. | 1 hour 30 min. | 45 min. | 2 hours 51 min. |
Step by step recipe
1: The day before, prepare 400 g Brioche dough and divide it into 100 g pieces.
2: On baking day, roll out each lump of dough into a rectangle the same size as your tin or mould.
3: Lay the first rectangle in the bottom of the tin.
It doesn't matter if the dough is a bit too big, just fold up the edges (like in this photo), but it mustn't be too small.
4: Arrange 100 g dried apricots in an even layer.
5: Lay a second rectangle of brioche dough on top.
Spread 100 g raisins on top.
6: Lay the third rectangle of brioche dough on top.
Spread 100 g dried cranberries on top.
7: Finish with the fourth rectangle of brioche dough...
8: ...and glaze the top.
9: Leave in a warm place to rise for about an hour and a half.
Glaze the top again.
10: Preheat the oven to 360°F (180°C).
Cover the tin or mould with either a suitable flat lid or a baking sheet upside down over the top and weight this down with anything heavy that can go in the oven.
This will give your loaf a nice flat top.
11: Bake for about 45 minutes, then remove the lid as soon as it comes out of the oven.
12: Turn out the loaf and leave to cool on a wire rack.
13: This brioche can be eaten on its own, but can also be served in a dish as a dessert with custard (crème anglaise) or a scoop of vanilla ice cream, for example.
Remarks
The initial amounts, 400 g brioche dough divided into four 100 g pieces, work for a 2l (approx. 4 pt) tin or mould, 26x10x10 cm (10x4x4 inches). You should adapt the quantities if your tin or mould is smaller.
This recipe can be varied using any other dried fruit you like.
---
December 8th 2023.