Chocolate rolls (petits pains)
A recipe from
cooking-ez.com
423K
2.7
October 30
th
2021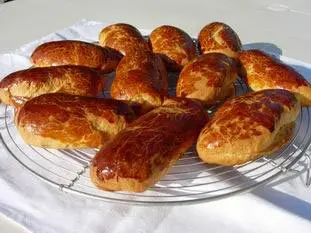 For 24 petits pains, you will need:
Times:
| Preparation | Resting | Cooking | Start to finish |
| --- | --- | --- | --- |
| 1 hour 37 min. | 3 hours 30 min. | 20 min. | 5 hours 27 min. |
Step by step recipe
1: Put 600 g flour, 10 g yeast, 150 g butter, 70 g caster sugar, 10 g Vanilla sugar, 250 ml milk, 100 g cream et 10 g salt, in the bowl of a mixer.
2: Knead 4 minutes on speed 1, then about 8 minutes on speed 2, until the dough becomes slightly elastic.
Gather the dough into a ball, cover with a plastic sheet and leave to rest for 2 and a half hours at room temperature, until doubled in volume.
Note: For the best way to knead, see: A few tips for effective kneading at home.
3: At the end of this time, tip it onto the work surface and press down on top to release gases.
4: Then reshape into a ball, while kneading a little with your hand.
5: Cut dough into lumps of of approximately 50g. If you have weighing-scales, you can do this by weighing, but flour the scale-pan first.
6: Divide up all the dough.
7: Then "roll" the lumps, under your hand, like modelling clay.
Do this for all the dough.
8: Flatten each ball with your fingers, to form a kind of elongated cake.
9: Place a stick of chocolate on it.
10: Roll the dough up around the chocolate.
11: If necessary, tidy up the ends. The dough should extend barely 1 cm beyond the chocolate, but it should no longer be visible.
12: Arrange the rolls on a baking sheet, leaving room between them as they will rise and spread during baking. Be sure to place the seam downwards. Cover with a plastic sheet and leave to rise in a warm place for about 1 hour.
Preheat the oven ot 230°C or 446°F.
13: Then, glaze the rolls, and put in the oven for 15 to 20 minutes.
14: Take out of the oven as soon as they are well coloured. They should not be overcooked, otherwise they will be too dry.
Remarks
If you plan to eat them the following day instead of freshly-baked, I suggest you re-heat them just before serving (about 10 minutes at 100°C or 212°F).
Katia gives us a good tip in case you have no sticks of chocolate: use leftover chocolate truffles.
[Translator's note: since when do chocolate truffles ever last long enough to be leftover?].
---
December 7th 2023.