Dipping bread with cheese
A recipe from
cooking-ez.com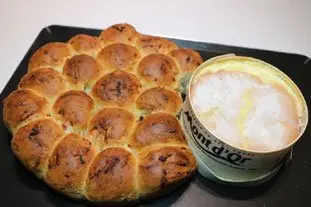 For 1 , you will need:
Times:
| Preparation | Resting | Cooking | Start to finish |
| --- | --- | --- | --- |
| 30 min. | 1 hour 40 min. | 40 min. | 2 hours 50 min. |
Step by step recipe
2: Pour 3 tablespoons olive oil into a saucepan on medium heat and when hot, add the chopped shallots and cook uncovered and without colouring for about 5 minutes, then salt and pepper afterwards.
3: Fry 125 g small pieces of bacon in a frying pan without adding any oil.
4: Once the bacon is cooked, mix with the shallots and leave to cool.
This can be prepared the day before or even a few days in advance.
5:

Prepare the bread dough

Put into a food-mixer bowl: 250 g flour, 1 egg, 90 g milk, 35 g butter, 7 g yeast, 4.5 g salt and 50 g Soured dough.
The milk should be cold, straight from the fridge.
6: Knead for 7 minutes, then add the bacon and shallot mixture and knead for a further 1 or 2 minutes to mix evenly into the dough.
Note: For the best way to knead, see: A few tips for effective kneading at home.
7: Gather the dough into a ball, transfer to a clean bowl, cover with a sheet of plastic and leave to rest for 1 hour at room temperature.
8: After this time, weigh out the dough into lumps of about 1 oz (30 g).
9: Roll each piece into a ball (just like you would do with modelling clay).
10: Arrange the balls into a tin (preferably spring-form) or mould.
Do not pack the balls too tightly, as they will expand.
Cover once more with a sheet of plastic and leave to rest for 30 minutes.
11: Preheat the oven to 430°F (220°C).
After 40 minutes, you will see how the balls will have risen.
12: Bake for about 30 minutes at the same time as the Mont d'Or (treat it like hot box cheese).
13: Serve the bread and cheese together on the table.
For the best effect, pull a few balls off from the edge of the loaf (your excuse can be that you needed to "test" it, of course) to make a space for the cheese to sit.
14: Let everyone break off balls of bread themselves to dip into the melted cheese.
With hands simply reaching to one common plate in the centre of the table, this is what sharing food is all about.
Remarks
Ideally, the bread should be served warm with the melted cheese piping hot.
It is not essential to use Mont d'Or (even if this is a sublime cheese). Any similar soft-paste cheese, such as Camembert, will work well.
You might also like to use small dice of
morteau sausage
instead of the bacon.
---
August 13th 2022.