Old style brioche
A recipe from
cooking-ez.com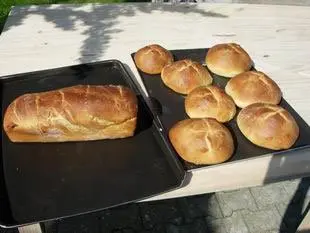 For 1 brioche, you will need:
Times:
| Preparation | Resting | Cooking | Start to finish |
| --- | --- | --- | --- |
| 12 hours 36 min. | 1 hour | 30 min. | 14 hours 6 min. |
Step by step recipe
1: In the bowl of a mixer or a mixing bowl, put 100 g caster sugar, 10 g Vanilla sugar, 9 g fine (or table) salt and 2 tablespoons milk.
3: Start the mixer, or start to knead with your hands.
4: Add 4 eggs immediately, knead for 5 minutes until you get a completely smooth dough.
5: Stop kneading, then add 250 g butter cut into small pieces (butter at room temperature) or grated with a cheese grater (butter straight from the freezer).
6: Start to knead again until you get a homogeneous dough (approximately 10/15 minutes).
7: Put the dough in a bowl, cover with plastic film, and refrigerate overnight.
8: Next day, make balls of dough, at the same time you can mix in raisins, chocolate chips, small pieces of sugar, etc...
Then cover with a plastic sheet, and leave to rise at room temperature until they double in volume (approximately two hours).
Preheat the oven to 200°C or 392°F
Glaze the top of the dough.
9: Cut crosses in the top of the balls and put in the oven for 20 to 30 minutes.
---
October 31th 2020.