Olive and pesto bread
A recipe from
cooking-ez.com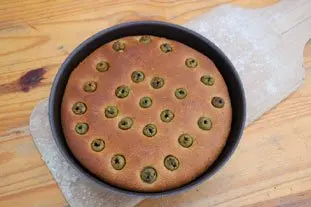 For 2 loaves, you will need:
Times:
| Preparation | Resting | Cooking | Start to finish |
| --- | --- | --- | --- |
| 27 min. | 2 hours 50 min. | 40 min. | 3 hours 57 min. |
Step by step recipe
1: Put into a food-mixer bowl: 500 g plain white flour (French Type 65), 350 ml water, 50 ml olive oil, 9 g salt, 7 g yeast, 2 tablespoons herbes de Provence and 150 g Soured dough (if possible).
2: Knead on slow speed for 10 minutes.
Note: For the best way to knead, see: A few tips for effective kneading at home.
3: Gather the dough into a bowl and transfer to a clean bowl. Cover with a plastic sheet and leave to rest for 1 to 2 hours.
4: After resting, weigh out the dough into 4 identical pieces (if you are making 2 loaves, that is).
Roll the dough into balls, cover with a plastic sheet and leave to rest for 20 minutes.
5: After resting, take the first ball of dough and roll out into a circle the diameter of your tin or mould (I am using a 10 inch / 26 cm spring-form tin here).
6: Place this circle of dough in the tin.
7: Spread half of the 200 g Pesto over the dough with a spoon.
Do not take the pesto too close to the edge, but leave about 1/2 an inch (1 cm) bare (as in the photo).
Moisten this edge with a brush dipped in water to help stick the layers of dough together.
8: Lay the second circle of dough on top and press down lightly to seal around the edge.
9: Push the stoned green olives into dough, all over the top.
Repeat steps 5 to 9 for the second loaf.
Cover them with a plastic sheet and leave to rest for 1 hour.
10: Preheat the oven to 460°F (240°C).
Brush the tops of the loaves with a little olive oil, then bake for 30 to 40 minutes.
11: Turn out while hot.
12: However you serve the bread (cut into portions, like a cake, or in small squares...), arrange the pieces to show off the pesto in the centre.
Remarks
You can use black olives instead of green, if you prefer (do remove the stones from these, too).
Another possible version: use
tapenade
instead of the pesto.
---
March 23th 2023.