Coleslaw
A recipe from
cooking-ez.com
92K
1
4.6
January 3
rd
2014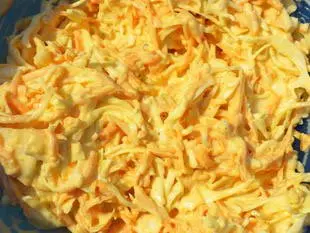 For 600 g, you will need:
Times:
Step by step recipe
1: Prepare 300 g green cabbage, raw.
2: Prepare 300 g carrot and grate them.
You should have about the same weight of grated carrot as chopped cabbage.
4: Add 4 tablespoons Mayonnaise and mix thoroughly.
5: Your coleslaw is ready.
Remarks
The cabbage traditionally used is the hard "white" variety, but this is not essential.
The basic recipe can be varied easily. You can add hot pepper to the mayonnaise, add chopped
chives
, cooked potatoes, etc.
---
March 23th 2023.