Cod loin with saffron
A recipe from
cooking-ez.com
74K
3.9
December 17
th
2014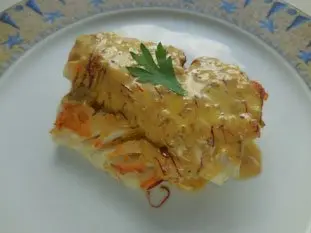 For 4 people, you will need:
Times:
| Preparation | Cooking | Start to finish |
| --- | --- | --- |
| 16 min. | 31 min. | 47 min. |
Step by step recipe
2: Clean and trim the fish. I recommend using thick cuts of white fish for this; loin of cod is ideal.
Pepper and salt on both sides.
3: Sprinkle both sides with flour.
4: Melt 30 g butter in 3 tablespoons olive oil in a frying pan over medium heat.
Lower in the fish portions and fry until browned on both sides.
5: As always when cooking fish, remember the thermometer is your friend: the fish will be cooked when the centre of the thickest part reaches 140°F (60°C).
6: Transfer the fish to a hot plate and cover with aluminium foil.
7: Now make the sauce: using the same frying pan, without cleaning it, add the chopped shallot.
If the pan is too dry, add another tablespoonful of olive oil.
Salt and pepper, then cook for 1 minute without colouring.
8: Then pour in 2 glasses dry white wine and deglaze the bottom of the pan thoroughly.
9: Leave to reduce by 2/3...
10: ...then pour in 200 ml liquid cream...
11: ...and ½ teaspoon saffron.
Mix everything together and leave on low heat to thicken.
Check seasoning.
12: Serve immediately, with the sauce poured over each fish portion.
To accompany, you can serve rice and peas or thaï rice with small vegetables, for example.
Remarks
Do adapt the quantity of saffron to suit your own taste.
---
September 23th 2021.