Firied fillet of sea bream with polenta
A recipe from
cooking-ez.com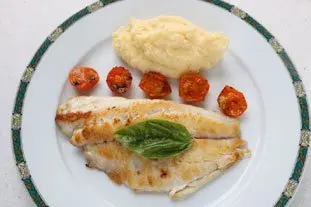 For 4 people, you will need:
Times:
| Preparation | Cooking | Start to finish |
| --- | --- | --- |
| 12 min. | 11 min. | 23 min. |
Step by step recipe
1: Ask your fishmonger to prepare the fish fillets for you. Rinse them thoroughly, dry them and be sure to remove any remaining bones.
Pepper and salt on both sides.
2: Cut 200 g cherry tomatoes in half and salt very lightly.
3: Pour 3 tablespoons olive oil into a frying pan on medium heat.
When really hot, add the halved cherry tomatoes and sauté for 1 or 2 minutes.
4: Set aside to keep hot.
5: Prepare 400 g polenta. While still hot, incorporate 100 ml liquid cream, then add 50 g grated cheese.Check the seasoning.
6: Pour 3 tablespoons olive oil into a frying pan on high heat.
When hot, add the fish fillets and fry...
7: ...on both sides.
Heat the plates.
8: Put a fillet of fish on each plate and add a row of sautéed tomatoes and a scoop of polenta.
Serve immediately.
Remarks
It's not essential to use sea bream, you can use any good fish that's in season.
If you don't have cherry tomatoes, use larger tomatoes sliced.
For the cheese in the polenta, I recommend (as usual!) Comté, but any other cheese you like will work just fine.
---
May 20th 2019.