Grilled fillet of salmon with corn salad cream
A recipe from
cooking-ez.com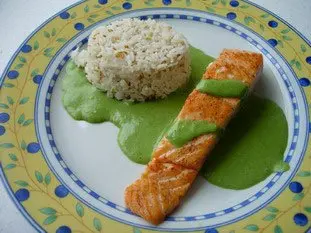 For 2 people, you will need:
Times:
| Preparation | Cooking | Start to finish |
| --- | --- | --- |
| 1 hour 2 min. | 12 min. | 1 hour 14 min. |
Step by step recipe
1: Trim 100 g corn salad, keeping only good green leaves, wash carefully (preferably twice), drain and dry.
2: Peel, wash and chop 1 shallot finely .
3: In a pan, melt 20 g butter, add shallot, salt and pepper.
Cook one minute, while stirring.
4: Add corn salad.
5: Continue stirring over medium heat for 2 or 3 minutes, until leaves wilt but are still nice and green.
6: Add 100 ml cream, mix well and allow to thicken a little for about 3 minutes.
7: Pour the contents of the pan into a blender, and mix to obtain a smooth cream with a pretty green colour.
The corn salad cream is ready, check seasoning and set aside.
8: Prepare sesame rice: heat a pan on medium heat and add 3 tablespoons sesame seeds. Cook, shaking or stirring the pan from time to time, until the first sesame seeds crack like popcorn.
9: Remove pan from heat, add 200 g cooked rice and 2 tablespoons sesame oil.
10: Put pan back over low heat and mix well.
The sesame rice is ready. Check seasoning and set aside.
11: Heat serving plates.
Prepare and grill 2 salmons fillet.
12: If necessary, reheat rice and cream.
In each plate put 1 salmon fillet, some sesame rice (this can, for aesthetic reasons, be shaped with a small mould or bowl) and surround with corn salad cream.
Enjoy it and bon appétit!
Remarks
It's important in this recipe not to over cook the fish. Watch the colour of the flesh carefully in the frying pan.
You can replace corn salad (or lamb's lettuce) with
spinach
,
parsley
, even lettuce, but it's less interesting.
---
October 26th 2020.