Mussels marinière
A recipe from
cooking-ez.com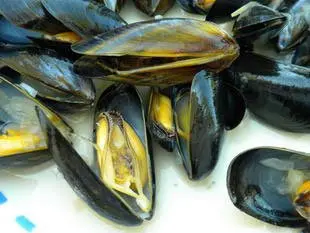 For 1 kg, you will need:
Times:
| Preparation | Resting | Cooking | Start to finish |
| --- | --- | --- | --- |
| 37 min. | 5 min. | 22 min. | 1 hour 4 min. |
Step by step recipe
1: Wash 1 kg mussels.
3: Melt 50 g butter in a large pan.
When the butter is melted, add the onions and the bunch of parsley, salt a bit (mussels juice is coming) and pepper generously, then leave to cook for 1 or 2 minutes.
4: Pour in 500 ml dry white wine and bring to the boil.
5: Tip in the mussels, stir briefly, pepper generously and cover.
Leave to cook covered for a minute or two, then remove the lid and take out all the mussels that have opened, using an araignée (spider) or a skimmer, as they are already cooked.
Repeat this operation until all the mussels are cooked.
6: Carry on removing the mussels like this. Any that have not opened after five minutes are no good and should be discarded.
Cover the cooked mussels with a sheet of aluminium foil to keep them hot.
7: Turn up the heat under the pan and reduce the cooking juices by half.
8: Pass them through a fine sieve, leaving a little in the bottom of the pan, as this always contains some sand.
9: Pour the reduced juices boiling hot over the mussels...
10: ...and serve immediately.
Remarks
You can vary the flavour of the mussels by adding to the pan at the stage of reducing the cooking juices: cream, cream with a little roquefort, curry powder, etc.
---
September 24th 2020.