Seafood feuillantines
A recipe from
cooking-ez.com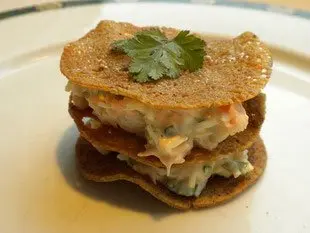 For 4 people, you will need:
Times:
| Preparation | Cooking | Start to finish |
| --- | --- | --- |
| 43 min. | 5 min. | 48 min. |
Step by step recipe
1: Preheat the oven to 390°F (200°C).
Cut circles from the buckwheat pancake about 6 cm (2.3 inches) in diameter.
You will need 3 circles for each feuillantine.
3: Arrange the circles on a baking sheet.
5: Put 150 g crab meat and 150 g fresh salmon (lightly poached in a little salted water) into a bowl with 100 g Mayonnaise, your choice of herbs (chives, coriander and parsley here) chopped finely and pepper.
6: Mix thoroughly.
7: Begin assembling the feuillantines: place a circle on the serving plate. Put a spoonful of filling on top.
8: Add a second circle and top this with another spoonful of filling.
9: Finish with the third circle.
Make one feuillantine for each guest.
10: Serve without delay.
If you have any mixture left over, try improvising a different presentation.
Remarks
If you do not have any buckwheat pancakes (galettes), you can use sheets of brik or filo.
To keep the circles completely flat, place a second baking sheet on top before putting in the oven.
---
December 7th 2021.