Summer Salmon Blanquette
A recipe from
cooking-ez.com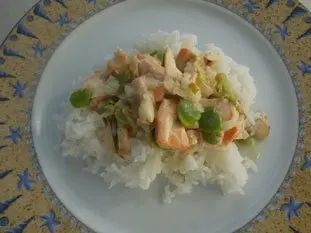 For 4 people, you will need:
Times:
| Preparation | Cooking | Start to finish |
| --- | --- | --- |
| 43 min. | 16 min. | 59 min. |
Step by step recipe
1: Cut 350 g fresh salmon into chunks (use fillet and remove any skin, fat and bones).
2: Shell the broad beans, plunge into boiling water for 3 minutes, then peel.
3: Peel 200 g mushrooms and chop fairly small.
5: Pour 4 tablespoons olive oil into a large saucepan on medium heat.
When hot, add the mushrooms, salt and pepper and fry until lightly browned.
6: Then add the chopped onion and a little more olive oil if necesssary.
Cook for 1 or 2 minutes.
7: Add 100 ml dry white wine...
8: ...and leave to reduce by 3/4.
9: Meanwhile, put a non-stick frying pan on high heat. When really hot, add the salmon chunks.
10: Fry rapidly on all sides. It doesn't matter if they are not cooked through, they just need to be browned.
11: Pour 250 ml liquid cream into the suacepan, then add the salmon and broad beans.
Leave uncovered on low heat to thicken.
12: Your salmon blanquette is ready. Serve with pasta or pilau rice, for example.
Remarks
You can use any other fish you prefer instead: cod, tuna, etc.
---
May 27th 2020.