Preserved tomatoes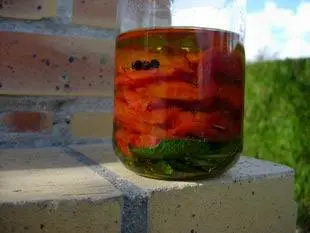 - Remove photos
For
4 Preserved tomatoes

, you will need:
Times:
| Preparation | Resting | Cooking | Start to finish |
| --- | --- | --- | --- |
| 56 min. | 10 min. | 4 hours | 5 hours 6 min. |
Step by step recipe:
Peel 4 tomatoes, cut into quarters and discard seeds. You should have "petals" of tomatoes.

Salt on both sides, then leave the juice to drain out for about one hour.
Drain and dry on a cloth or some papier absorbant.
Peel 1 garlic clove.

Cut garlic into thin strips.

On a non-stick baking sheet, put a sage leaf dipped in olive oil, add a little thyme and a small strip of garlic on top.

Place a piece of tomato on top, then another small strip of garlic.

Brush with olive oil.

Then add pepper.

Arrange all the tomatoes in this way.

Then put in the

conventional oven: 4 hours at 80°C or 176°F
bread oven: 12 hours after oven has cooled to 60°C or 140°F.

At the end of this time, take out the baking sheet.
Prepare a jar with the sprig of rosemary, a sage leaf, a sprig of thyme and a bayleaf, blanched as for the flavoured olive oil recipe.

Add the preserved tomatoes (discard cooking herbs), and cover with a little olive oil.
Remarks:
The tomatoes will keep unrefrigerated for several weeks. For a little more flavour, add a small chilli to the jar.
A recipe from cooking-ez.com. View this recipe :
https://cooking-ez.com/four/recipe-tomato-preserve.html
September 26
th
2018.