Apple custard tart
A recipe from
cooking-ez.com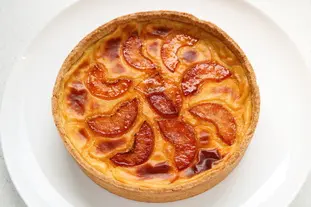 For 1 tart, you will need:
Times:
| Preparation | Resting | Cooking | Start to finish |
| --- | --- | --- | --- |
| 32 min. | 1 hour | 1 hour 5 min. | 2 hours 37 min. |
Step by step recipe
1

The pastry case

Roll out 300 g Sweetcrust pastry (pâte sablée) and line an 8-inch (20 cm) tin or mould, following these tips.

Put to wait in the fridge.
2

The apple garnish

Peel 2 apples and cut into even slices.
3
Melt 30 g butter in a small frying pan on high heat, then add 30 g caster sugar.

Add the apple slices...
4
...and caramelize on both sides.

Leave to cool on a wire rack.
5

The custard filling

Put 150 g egg and 50 g caster sugar into a bowl and mix. Add 70 g cornflour and mix again.
6
Pour 600 ml apple juice and 300 g liquid cream into a saucepan on medium heat. Mix and heat until it starts to simmer.
7
Pour the hot liquid into the egg mixture, mix well...
8
...and return to the pan, pouring through a fine strainer.
9
Put back on low heat and whisk gently but constantly until the mixture thickens slightly.
10
Finish by adding 50 g butter and give the custard a quick whizz with a stick blender for a smooth texture.
11

Assemble the tart

Preheat the oven to 390°F (200°C).

Take the pastry case out of the fridge and trim off any overhanging pastry around the edge.
12
Pour the apple custard into the tart case.
13
Arrange the caramelized apple slices in a rosette.
14

Baking

Bake for 30-40 minutes.
15
Leave to cool, then refrigerate for a good hour before removing the tin or mould.
Remarks
For the best result, use a slightly sharp apple juice, ideally freshly pressed.
If your apple juice is on the sweet side, you can add a little lemon juice.
The tart can be
glazed
after baking, once it has cooled, but this is not essential.
---
December 6th 2023.