Julia salad
A recipe from
cooking-ez.com
7,027
4
February 10
th
2021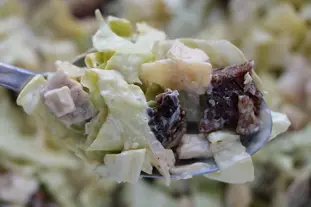 For 4 people, you will need:
Times:
| Preparation | Cooking | Start to finish |
| --- | --- | --- |
| 27 min. | 5 min. | 32 min. |
Step by step recipe
1
Prepare 400 g lettuce and shred.

Put into a salad bowl.
2
Dice 300 g cooked chicken fairly small.
3
Add to the bowl.
4
Grate 30 g Parmigiano reggiano (Parmesan) over the top, or shave with a vegetable peeler.
5
Cut 2 slices bread into small cubes.

Try to use a bread with some character (saucipain shown here), even if it's going dry.
6
Pour 2 tablespoons oil into a frying pan on high heat. When good and hot, add the croutons and fry until golden brown.

Set aside.
7
To make the dressing, blend 1 hard-boiled egg, 2 tablespoons lemon juice, salt and pepper, then add 6 tablespoons olive oil in a thin stream while still blending.

Check the seasoning.
8
Add the croutons to the bowl, pour the dressing over and mix well. Your salad is ready.

Serve without delay.
Remarks
You can also add your own choice of herbs.
For a quicker version, use a
rémoulade dressing
instead.
---
October 22th 2021.