Nanterre brioche
A recipe from
cooking-ez.com
243K
4.1
September 10
th
2018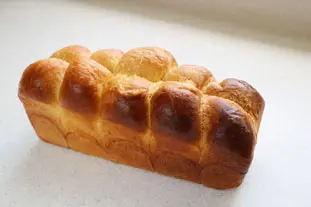 For 1 brioche, you will need:
Times:
| Preparation | Resting | Start to finish |
| --- | --- | --- |
| 16 min. | 2 hours 10 min. | 2 hours 26 min. |
Step by step recipe
1
The day before, prepare the brioche dough.

Next day, cut dough into 40 g pieces. Make balls with these dough pieces.

You need about 10 balls to make your brioche, according to the size of your mould or tin.
2
Put balls in your mould or tin.
3
Glaze top of brioche.

Leave in a warm place to rise for 1.5 hour.
4
After this time, brioche should have double volume or about.

Preheat oven to 180°C or 356°F.

Glaze top of brioche a second time.
5
Bake for about 40 minutes, watch for colouration because brioche should not be over cooked otherwise she dries.
6
Unmould as soon as it is out the oven, and let cool on a wire rack.
Remarks
You can sprinkle the brioche before cooking with some caster sugar, it will be slightly crisp on the top.
---
October 22th 2021.