How to fry eggs well
A recipe from
cooking-ez.com
483K
1
3.9
March 11
th
2018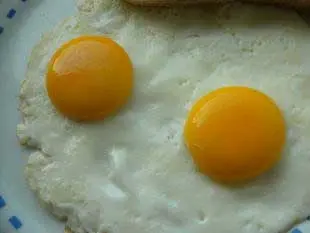 For 2 eggs, you will need:
Times:
| Preparation | Cooking | Start to finish |
| --- | --- | --- |
| 14 min. | 6 min. | 20 min. |
Step by step recipe
1
Heat the serving plates.

Gently separate the yolks of 2 eggs.
2
Take care not to break yolks from the whites.
3
Melt 1 knob butter in a non-stick pan on medium heat.

When the butter is melted, add 1 teaspoon water. This is the secret of how to cook the white without it forming a crust.
4
Tip the egg whites all at once into the pan...
5
...and cook until they are just set.

Salt and pepper to taste.
6
Turn down the heat and very gently place the yolks on top of the cooked whites, spacing them evenly.

Leave like this on low heat for about 3 minutes to heat the yolks through.
7
Transfer to a hot plate. Your fried eggs are ready and perfectly cooked: the whites are set, the yolks runny. Serve immediately as they spoil quickly.
8
The video on the right will show you the method in more detail.

You will have to excuse the brown edge on my egg white - I didn't clean the pan after the first two...
Remarks
These fried eggs have nothing in common with those served up in a typical "greasy spoon" café. Do
not
salt the yolk, as this will mark it with unsightly white spots.
You can season eggs many different ways: simple salt and pepper, a pinch of paprika or a few drops of vinegar (which I adore!).
---
June 9th 2023.