Spaghetti with mussels and basil
A recipe from
cooking-ez.com
145K
3.9
September 14
th
2011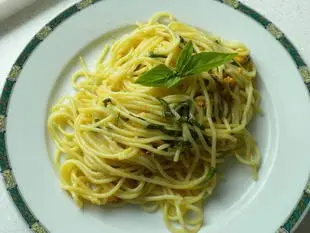 For 6 people, you will need:
Times:
| Preparation | Cooking | Start to finish |
| --- | --- | --- |
| 1 hour 20 min. | 20 min. | 1 hour 40 min. |
Step by step recipe
1
Cook the mussels 'Marinière', then shell them (yes, I know this is a lot of work...).

Set aside.
2
Pour the mussel cooking juices into a small pan (leave the very bottom, as this always contains some sand). Reduce by 3/4 over high heat.

Pour in 250 ml liquid cream, pepper generously, but don't add salt at this point, as the cooking juices are generally quite salty. Leave to thicken on low heat.

Check seasoning.
3
Cook the spaghetti, drain and return to the pan over low heat.
4
Add the shelled mussels, pour in the sauce, add the grated Parmesan and mix well.
5
Finish by scattering with basil leaves (cut small using scissors).
6
Serve immediately.
Remarks
Be careful when seasoning, as the mussel cooking liquid is generally fairly salty already, so you shouldn't need to add more salt. But add plenty of pepper, and do taste frequently.
---
December 6th 2023.