Fried rillettes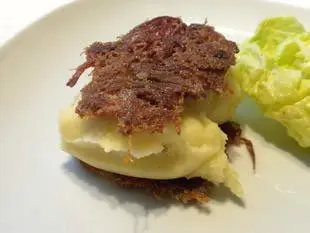 - Remove photos
For
4 people

, you will need:
Times:
| Preparation | Cooking | Start to finish |
| --- | --- | --- |
| 14 min. | 15 min. | 29 min. |
Step by step recipe:
Heat the serving plates.

Flatten 200 g rillettes into thin cakes in a non-stick pan.
Put the pan on high heat and allow the fat to run out, mopping it up from time to time with absorbant paper.

Stop when the cakes are well fried.

Place a disc onto each plate.

Cover with 2 spoonsful of hot mashed potato (or potato rissoles, if you know how to make them).

Top with a second rillettes cake.

Serve with a little green salad.
Remarks:
You will notice that the rillettes you buy in the shops have a lot of fat and not much meat, so it is far better to make your own
rillettes
, if you can.
A recipe from cooking-ez.com. View this recipe :
https://cooking-ez.com/divers/recipe-fried-rillettes.html
September 25
th
2018.