Pan-baked hash brown (Hash-brown casserole)
A recipe from
cooking-ez.com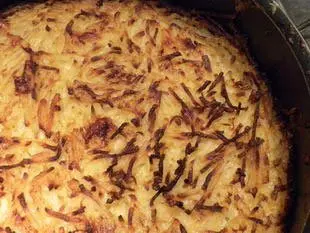 For 4 people, you will need:
Times:
| Preparation | Cooking | Start to finish |
| --- | --- | --- |
| 1 hour 4 min. | 42 min. | 1 hour 46 min. |
Step by step recipe
1
Peel and wash 800 g potatoes.
2
Grate the potatoes fairly coarsely, by hand or machine, then place in a large bowl of cold water. The water will turn cloudy as the potatoes release their starch.

Stir the whole lot well and change the water (or leave the tap running) until all the starch has been removed.

We remove the starch to prevent the potatoes sticking during cooking.
3
Drain the potatoes thoroughly and leave on a tea-towel to wait.

If you want to do this more efficiently, use a salad spinner.
4
Prepare and chop 50 g onion.
5
Grate 200 g cheese (Cheddar for the authentic version).

Preheat the oven to 200°C (390°F).
6
Choose a large non-stick pan that can be used in the oven. Melt 30 g butter on medium heat.

When hot, add the chopped onion, salt and pepper. Cook for 1 or 2 minutes while stirring, without colouring.
7
Tip in the grated potoatoes and stir well.
8
Add the grated cheese, then pour in 125 ml milk, 125 ml liquid cream and 1 chicken stock cube.
9
Add a little more salt, plenty of pepper and mix well.

Bring to the boil.
10
As soon as it boils, transfer the pan to the oven...
11
... and bake for 40 minutes.

The hash brown will bake into a sort of large cake. Check for the colour of the top and - most important - the underneath, which should be golden brown.
Remarks
You can serve this American style, with fried eggs and bacon for example, or in a more classic French style with a good green salad and
vinaigrette dressing
. Why not try both together?
The typical cheese to use is Cheddar, but any fairly hard cheese you like will do.
---
December 6th 2023.