"Land and sea" kebabs
A recipe from
cooking-ez.com
79K
4.6
February 24
th
2013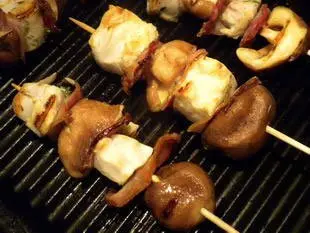 For 6 kebabs, you will need:
Times:
| Preparation | Cooking | Start to finish |
| --- | --- | --- |
| 29 min. | 15 min. | 44 min. |
Step by step recipe
1
Cut the fish into fairly large cubes.
2
Prepare the marinade by mixing 6 tablespoons olive oil, 1 lime, herbs of your choice (bay, rosemary and thyme here), salt and pepper.
3
Tip the fish into the marinade, mix well, cover with plastic film and leave to marinate for at least one hour.
4
Cut the mushrooms into large pieces.
5
If not already in slices, slice the bacon thinly and cook in the oven at 360°F (180°C) on a wire rack until lightly browned.
6
Cut the slices across into squares.
7
Make up the slewers, alternating fish with mushrooms and bacon.

If you are not going to cook them immediately, put them on a plate and sprinkle what is left of the marinade over them.
8
Grill or, preferably, barbecue, turning until cooked on all sides (They can also be cooked on a griddle or in a frying pan if necessary).
Remarks
You can vary the ingredients as you wish, for example by using prawns, crayfish or scallops instead of the fish.
---
October 22th 2021.