Filet mignon with mustard and tarragon sauce
A recipe from
cooking-ez.com
62K
4.2
December 30
th
2019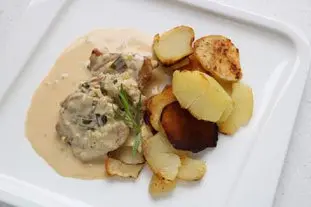 For 4 people, you will need:
Times:
| Preparation | Cooking | Start to finish |
| --- | --- | --- |
| 13 min. | 47 min. | 1 hour |
Step by step recipe
1
Prepare and finely chop 1 onion.

Pick the leaves off 2 sprigs tarragon.Set aside.
2

Pre-fry the medallions

Cut 400 g filet mignon (pork loin) into medallions (fairly thick slices), allowing 2 or 3 per person.

Salt and pepper on both sides.
3
Use a frying pan that is not non-stick (this is important for the sauce later on). Put on high heat and pour in 3 tablespoons olive oil.

When really hot, add the pork medallions.
4
Fry until browned on both sides...
5
...then transfer to a hot plate and cover with a sheet of aluminium foil. Keep hot on the side of the cooker.
6

Mustard and tarragon sauce

Put the frying pan in which the meat was cooked on medium heat. Pour in 150 ml dry white wine and scrape the bottom thoroughly to deglaze the pan.
7
Add the chopped onion, mix well and leave to reduce by about half.
8
Then add 250 ml liquid cream, the leaves chopped at the last minute, then salt and pepper.

Leave to reduce for 2 or 3 minutes...
9
...then add 2 tablespoons French mustard, mix well and check the seasoning.
10
Return the medallions to the pan with any juices that may have run out onto the plate. Leave to simmer gently in the sauce on low heat.
11
Meanwhile, prepare whatever you will be serving with the pork. Here it is fried sliced potatoes.
12
Heat the plates. Serve the medallions with your choice of accompaniment and the sauce poured over.

Garnish with a sprig of tarragon.
Remarks
This recipe can be adapted easily for other cuts of meat, so do feel free to experiment.
It is important to chop the tarragon at the last minute (at
stage 8
), otherwise it will rapidly lose its flavour if kept waiting after it is chopped.
---
December 6th 2023.