Lemony chicken and radish salad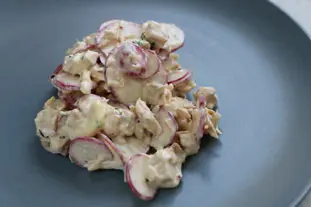 - Remove photos
For
4 people

, you will need:
Times:
Step by step recipe:
Wash and dry 300 g radishes, then slice thinly (a mandolin is ideal for this).

Use large radishes if possible, as they are easier to slice.
Dice 300 g cooked chicken fairly small.

Put the radishes and chicken in a bowl, add the finely chopped 2 tablespoons herbs of your choice and mix well.

Just before serving, add 100 g Lemon Mayonnaise and mix well.

This salad should not be served too cold, so take it out of the fridge 30 minutes beforehand.
Remarks:
You can use leftovers for the meat: chicken, of course, but other diced meats, such as pork, veal or beef will work well too.
A recipe from cooking-ez.com. View this recipe :
https://cooking-ez.com/entrees/recipe-lemony-chicken-and-radish-salad.php
September 25
th
2018.