Madras rice
A recipe from
cooking-ez.com
63K
4.5
December 16
th
2018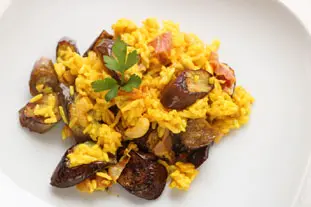 For 4 people, you will need:
1

300 g egg-plant or aubergine

2

3 tablespoons olive oil

3

4 slices smoked ham

4

250 g liquid cream

5

1 tablespoon curry powder

6

400 g cooked rice
Total weight: 1,130 grams
Times:
| Preparation | Cooking | Start to finish |
| --- | --- | --- |
| 8 min. | 20 min. | 28 min. |
Step by step recipe
1
Rinse 300 g egg-plant or aubergine and cut into fairly thick slices.

As you can see in the photo, I am using the delicious, long, purple aubergines that are sometimes available. I find them more interesting than the usual dark variety.
2
Pour 3 tablespoons olive oil into a large frying pan on high heat. When really hot, add the sliced aubergines.

Brown on both sides, then salt and pepper at the end of cooking.

Set aside.
3
Use the same pan to fry the ham on both sides.

Set aside.
4
Still using the same pan, without washing it (to make the most of the cooking juices left), pour in 250 g liquid cream.

Bring to the boil while deglazing the bottom of the pan thoroughly, then add 1 tablespoon curry powder and mix well.
5
Add 400 g cooked rice and mix well...
6
...then leave to reduce a little until the rice has absorbed most of the cream.
7
Finish by adding the ham and aubergines.
8
Serve without delay.
Remarks
If you find the curry flavour a bit too strong for your liking, you can use turmeric on its own instead.
---
December 6th 2023.