Tenderloin steaks marinated in red wine with rosemary
A recipe from
cooking-ez.com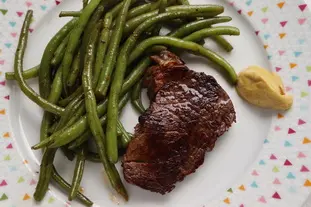 For 4 people, you will need:
Times:
| Preparation | Resting | Cooking | Start to finish |
| --- | --- | --- | --- |
| 14 min. | 12 hours | 20 min. | 12 hours 34 min. |
Step by step recipe
1: Trim 4 steaks of beef tenderloin, pat dry, then salt and pepper on both sides.
2: Rub each steak with a sprig of rosemary.
3: Prepare the marinade by mixing 4 sprigs rosemary, 500 ml red wine, 1 tablespoon soy sauce, 1 bayleaf and 1 garlic clove in a bowl.
4: Add the steaks, give a quick mix round, then cover and leave in the fridge to marinate overnight (or for about 12 hours).
5: Next day, take the steaks out of the marinade and set aside.
6: Put a large frying pan, preferably not non-stick, on high heat and add 2 tablespoons olive oil. When good and hot, lay the marinated steaks in the pan.
Fry on both sides until done to your liking.
When cooked, transfer to a hot plate and cover with aluminium foil to keep them hot.
7: With the pan still on high heat, pour in half the leftover marinade.
8: Reduce by 3/4 while deglazing the pan thoroughly (this is why it's best to use a pan that is not non-stick).
Add 40 g butter and stir round until melted.
9: Tip in the 800 g cooked green beans and reheat, stirring frequently.
10: Serve without delay, with the steaks sitting alongside their green beans on heated plates.
Remarks
You can use another prime (and less expensive) cut of meat than tenderloin for this recipe.
For the wine, try to choose a full-bodied red with plenty of tannins.
---
September 25th 2023.