Turnip and Jerusalem artichoke soup
A recipe from
cooking-ez.com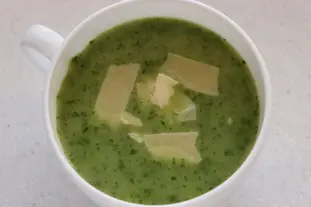 For 4 people, you will need:
0

500 g Jerusalem artichoke

1

500 g turnip

2

1 onion

3

30 g butter

4

1 litre water

6

20 g Parmigiano reggiano (Parmesan) (optional)

7

salt

8

pepper
Total weight: 2,185 grams
Step by step recipe
1: Peel and rinse 500 g Jerusalem artichoke and 500 g turnip.
Slice both thinly (a mandolin is ideal for this).
Prepare 1 onion and slice thinly.
2: Wash the turnip leaves like lettuce, then drain.
3: Melt 30 g butter in a large saucepan on high heat. When good and hot, add the onion, salt and pepper.
Cook for 1 or 2 minutes without colouring.
4: Add the turnip and artichoke slices, mix well and leaves to cook for 2 or 3 minutes, stirring from time to time.
5: Add 1 litre water and 1 chicken stock cube.
6: Bring to the boil, then turn down the heat and leave to simmer until the artichokes are tender (they take the longest).
7: Add the turnip tops.
8: Cook for a further 2 or 3 minutes.
9: Then blend the soup to finish.
10: Your turnip and Jerusalem artichoke soup is ready. Serve garnished with a few shavings of Parmesan, if you like.
Remarks
You can use vegetable stock instead of the chicken stock cube and water.
---
July 29th 2021.