Pistachio and spinach pesto
A recipe from
cooking-ez.com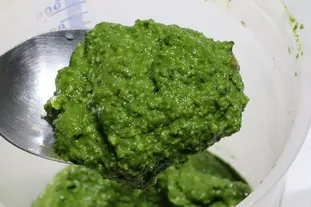 For 500 g, you will need:
1

100 g pistachios

2

200 g fresh spinach

3

100 g Parmigiano reggiano (Parmesan)

4

½ lemon

5

2 g vitamin C (optional)

6

100 g olive oil

7

salt

8

pepper
Total weight: 565 grams
Times:
| Preparation | Cooking | Start to finish |
| --- | --- | --- |
| 19 min. | 15 min. | 34 min. |
Step by step recipe
1: Preheat the oven to 300°F (150°C).
Spread 100 g pistachios out on a baking sheet and toast in the oven for 15 minutes.
2: Prepare 200 g fresh spinach and drain well, but leave raw.
3: Put the spinach in a high-sided jug or bowl with the cooled pistachios, the sliced (or grated) 100 g Parmigiano reggiano (Parmesan), the juice and zest of ½ lemon, 2 g vitamin C (if possible), 100 g olive oil, salt and pepper.
4: Use a stick blender to blend thoroughly until evenly mixed, adding a little more olive oil if necessary to get the right consistency.
Check the seasoning.
5: Your spinach and pistachio pesto is ready. If not using it immediately, keep in a sealed jar in the fridge.
Remarks
It's not absolutely necessary to toast the pistachios so, if you are in a hurry, just add them raw. Do however try to make sure they at least have the skins off.
As always with pesto, the amounts stated are for guidance, so feel free to adapt to suit your taste.
---
March 23th 2023.