Pâté de campagne
A recipe from
cooking-ez.com
2.0M
2
4.2
October 3
rd
2019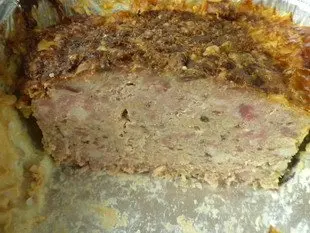 For 1 kg 800 g, you will need:
Times:
| Preparation | Resting | Cooking | Start to finish |
| --- | --- | --- | --- |
| 54 min. | 4 hours | 3 hours | 7 hours 54 min. |
Step by step recipe
1: Cut 500 g pork belly draught, 700 g pork loin and 600 g belly (streaky) bacon into medium sized pieces, remove everything that is not soft: skin, bones, gristle, etc.
Salt and pepper lightly, then weigh all the meat to arrive at a total (from which to calculate seasoning).
2: Prepare the marinade by mixing: 1 onion, 1 shallot and 2 cloves garlic chopped, 4 tablespoons Brandy (Cognac or Armagnac) and 4 tablespoons Port, 1 bayleaf, 1 sprig thyme and 1 sprig rosemary.
Pour onto the meat, mix, cover and refrigerate for at least 3 hours, preferably overnight.
3: After this, mince the the meat coarsly. Add the marinade except for the bayleaf, thyme and rosemary.
4: To the minced meat, add chopped 1 bunch parsley, 2 eggs, ½ teaspoon "Quatre-épices" spice blend, 28 g fine (or table) salt and 4 g pepper.
These proportions are correct if you have 1.7 kg of meats, otherwise use this small calculator:
5: Mix well, your pâté is now ready to be cooked.
6: Fill pie dishes, terrines or tins, large or small.
7: For aesthetic reason, you can cover your pâtés with a layer of pork caul; it does not alter the taste, but it look's more attractive.
If you have pork caul, soak in cold water to clean well, then rinse.
8: Put a piece of pork caul onver each dish.
9: And tuck in the edges, using a maryse for example.
10: Then cook, using one of the three following methods:
1) Classic: put your dishes, uncovered, in a bain-marie, in the oven at 302°F (150°C) and cook for three hours.
2) Long: put your dishes, uncovered, in the oven at 230°F (110°C), and cook for 4 or 5 hours.
11: 3) In bread oven, if you have one: after cooking your bread, wait until oven temperature drops to 302°F (150°C), then put in dishes, uncovered, for 5 or 6 hours.
Remarks
You will note that there is no liver in this recipe, I think (as Gireg) that it's unnecessary and adds nothing of interest to either the taste or texture.
This recipe can be adapted easily to your taste, by varying the ingredients. The only important thing is to keep the right proportion of seasonings to weight of meat.
---
December 3rd 2023.