Rabbit civet
A recipe from
cooking-ez.com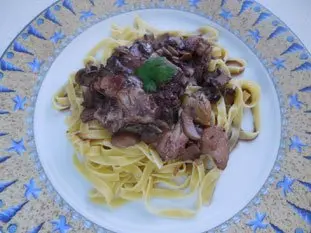 For 4 people, you will need:
Times:
| Preparation | Resting | Cooking | Start to finish |
| --- | --- | --- | --- |
| 20 min. | 12 hours | 3 hours | 15 hours 20 min. |
Step by step recipe
1:

Prepare the marinade


Cut the rabbit into pieces (or have your butcher do this for you).
2: Put into a bowl: 2 cloves garlic crushed, 1 bayleaf cut into pieces, 1 sprig rosemary, 1 sprig thyme, salt and pepper.
3: Place the rabbit pieces on top.
4: Cover with the red wine.
Cover with a plate and leave to marinate for 12 hours.
5:

Preliminary cooking


Heat 5 tablespoons olive oil in a large saucepan.
When hot, brown the rabbit pieces all over, in batches if necessary.
Please note: this is not to cook the rabbit, just to brown the outside, so cook for about 2 or 3 minutes on each side.
Set aside the browned meat on a plate.
6: Use the same pan to fry 150 g small pieces of bacon briefly.
Set aside.
7: Still using the same pan, use the fat released by the bacon to cook 350 g mushrooms, after chopping them.
Set aside.
9: Still using the same pan, heat 4 tablespoons olive oil and when hot, add the chopped onion, salt and pepper.
Fry the onion for 2 or 3 minutes.
10: Return the bacon and mushrooms to the pan and mix well.
12: ...then mix well.
13:

Begin the main cooking


Add the rabbit pieces to the pan...
14: ...then pour in the marinade, discarding the rosemary.
There should be enough wine to just about cover the meat. If not, add a little more.
15: Bring to the boil on high heat...
16: ...then leave to simmer on low heat: 1 hour with the lid on and about an hour and a half uncovered to allow the sauce to thicken slowly.
17: Discard the garlic, thyme and bayleaf, then check the seasoning.
Serve by standing the pan in the centre of the table so that people can help themselves, or by plating up, like in the photo.
To accompany your civet, I suggest pasta or pan-fried potatoes.
Remarks
Rabbit civet is one of those dishes, like
boeuf (beef) bourguignon
or
carbonnade
, which just gets better with each reheating. So make plenty and keep some for another day.
For even more flavour, you can add a
chicken or beef stock cube
at step 14.
---
December 8th 2019.