Seven-hour lamb
A recipe from
cooking-ez.com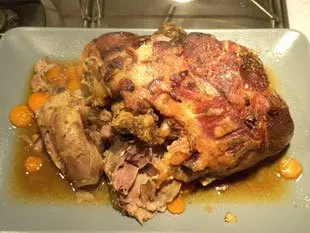 For 1 leg of lamb, you will need:
Times:
| Preparation | Cooking | Start to finish |
| --- | --- | --- |
| 23 min. | 7 hours 10 min. | 7 hours 33 min. |
Step by step recipe
2: Salt and pepper the lamb all over.
3: Place the lamb in an oven cooking bag (roasting bag) with the carrots, onion and cloves of garlic. Pour in 1 glass dry white wine.
If you do not have a roasting bag, use a casserole dish with a lid.
4: Cook in the oven at 120°C (250°F) for 7 hours.
5: Towards the end of this cooking time, turn the oven up to 200°C (390°F) for the last 10 minutes.
6: Turn the lamb out gently onto the serving plate. Discard the bone and cloves of garlic.
Serve the dish in the centre of the table so that your guests can serve themselves with a fork.
Remarks
When buying your leg of lamb, there is no need to ask the butcher to de-bone it. In fact, if you cook it on the bone, this will improve the flavour.
Do choose locally produced lamb if at all possible, which has not already come halfway round the world before ending up in your kirchen. Trust your butcher!
The 7-hour cooking time is not absolutely fixed, so if you raise the temperature, you can reduce the cooking time: 5 hours at 150°C (300°F), for example.
You can accompany the lamb with just about anything you choose: vegetables, potatoes, pasta, rice, etc. Simply serve the cooking juices in a jug or drain them off from the bag 10 minutes before the end of cooking and reduce them over low heat.
---
August 18th 2022.