Two-stage beef chuck
A recipe from
cooking-ez.com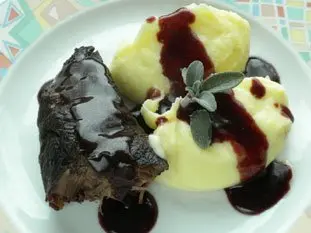 For 6 people, you will need:
Times:
| Preparation | Cooking | Start to finish |
| --- | --- | --- |
| 22 min. | 3 hours 35 min. | 3 hours 57 min. |
Step by step recipe
1: Choose a piece of beef that looks good, trim it, then salt and pepper generously on both sides.
2: Put into a cooking bag with half the red wine, the carrot (peeled and cut into chunks), bayleaf and sage.
3: Put in the oven at 300°F (150°C) and leave to cook for 3 hours.
4: After this time, remove the meat from the bag and discard the carrot, herbs and wine.
5: Make the red-wine sauce: pour the remaining wine into a saucepan on low heat...
6: ...and reduce by 3/4.
Salt, pepper and incorporate 50 g butter one small piece at a time, while whisking.
7: Finish by incorporating 1 tablespoon cornflour to thicken the sauce, whisking all the time.
8: Cut the meat into individual portions and fry these on both sides in a little oil.
9: Serve each portion on a hot plate, with potato purée on the side and the red-wine sauce poured over.
Remarks
Chuck would be my choice for this, but you can use any other cut you like.
It doesn't matter if the beef has "stringy bits" left in it, as these will melt during the long, slow cooking.
---
February 28th 2020.