Butter cream
A recipe from
cooking-ez.com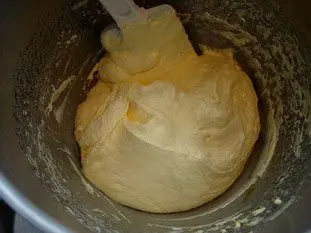 For 700 g, you will need:
Times:
| Preparation | Cooking | Start to finish |
| --- | --- | --- |
| 48 min. | 10 min. | 58 min. |
Step by step recipe
1: Take 180 g butter out of the refrigerator at least 1 hour before using.
Heat 150 g caster sugar and 3 tablespoons water in a small pan over high heat, and bring up to 120°C (250°F), using an electronic thermometer if possible to check.
2: Meanwhile, tip 6 egg yolks into a bowl and beat on high speed.
3: When the sugar syrup has reached 120°C (250°F), reduce the mixer speed and pour the syrup fairly quickly (30 seconds maximum) onto the egg yolks.
Try to avoid the syrup landing on the beaters or it will splash everywhere.
4: Leave the mixer beating for a further 10 minutes or so to cool the mixture.
5: After this time add 180 g butter a little at a time while still beating on slow speed, until the butter is completely incorporated.
6: The butter cream is ready.
7: If you would like a lighter butter cream, beat 3 egg whites and add 100 g caster sugar at the end.
8: Fold the beaten egg whites into the cream to lighten the texture while keeping the original flavour.
9: You can then add the flavouring of your choice like praline, a liqueur, or chocolate chips.
Remarks
The cream should be stored in the fridge in a sealed container. Take it out 1 hour before using to allow it to soften.
Butter cream is out of favour in modern patisseries, for one thing it's full of calories, and these days the taste is for less rich foods. But also, I fear, beacause it is so easy for a poor baker (whether industrial or not) to make a bad butter cream by mixing margarine with sugar and artifical flavouring. This awful cream eventually put customers off all the good butter creams, which is a shame, as I know people who would give anything for a decent real butter cream with praline for example.
---
July 10th 2020.