Apricot blancmange
A recipe from
cooking-ez.com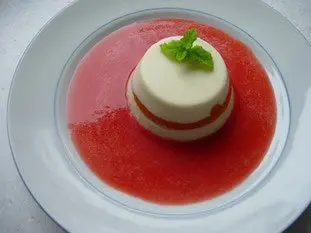 For 8 people, you will need:
Times:
| Preparation | Resting | Cooking | Start to finish |
| --- | --- | --- | --- |
| 39 min. | 2 hours 20 min. | 15 min. | 3 hours 14 min. |
Step by step recipe
1: Soak 2 sheets gelatin in a big bowl of cold water.
2: Pour 250 ml milk, 100 g caster sugar and 30 g ground almonds into a pan.
Mix well.
3: Bring to the boil over medium heat, stirring frequently. Take off the heat, cover and leave to infuse for at least one hour.
4: Pour 300 g Stewed apricots through a fine strainer into a pan.
5: Bring to the boil over medium heat, stirring fequently, then add 2 g agar-agar, and bring back to the boil beating vigourously.
6: Put the pan into cold water to cool, stirring occasionally.
Agar-agar will thicken apricot coulis and set on cooling.
7: To return to the almond milk: pour almond milk (now a thick purée) through a fine strainer into a pan, pushing it through with a soft spatula.
8: You will then have almond milk.
9: Heat almond milk on medium heat, stirring constantly, but do not boil.
When hot, remove from heat and add the drained and dried sheets of gelatin, while stirring.
10: Put pan to cool in cold water, stirring from time to time.
11: When almond milk is cold, add 4 drops bitter almond essence if desired.
12: Whip 150 ml liquid cream with 15 g Vanilla sugar to chantilly.
13: Pour ¼ of cold almond milk into whipped cream.
14: Mix thoroughly with a maryse or spatula.
15: Pour this into the rest of the almond milk...
16: ...and fold in gently.
17: Pour the blancmange into silicone moulds or small glasses, with alternate layers of almonds milk and apricot coulis.
For small glasses finish with a drop of coulis on top.
Put in the fridge for at least 2 hours.
18: Blancmange in glasses is served as it is.
19: Blancmange in a mould should be turned out onto serving plate, and can be surrounded with red fruit coulis or crème anglaise and decorated with a mint leaf on top.
Remarks
You can make the same recipe with fruits other than apricots.
Blancmange is a recipe appearing in the "Viandier" of Guillaume TIREL, also called Taillevent, master cook to king Charles VI of France in the XII
th
century. The "Viandier" is the first cook book written in French rather than Latin, it is said that the blancmange recipe is the only one which can be made today without modifications.
---
January 26th 2021.