Belle-helene in a glass
A recipe from
cooking-ez.com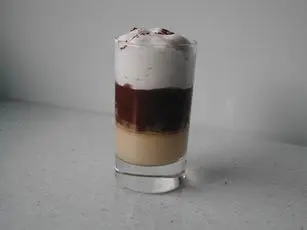 For 6 glasses, you will need:
Times:
| Preparation | Cooking | Start to finish |
| --- | --- | --- |
| 47 min. | 1 hour | 1 hour 47 min. |
Step by step recipe
1: Preheat oven to 150°C or 302°F, and boil a large pan of water. Put glasses in a dish or baking sheet.
Divide 200 ml crème brulée mixture (cold) between glasses, to about ¼ depth. Try to pour cream directly into the bottom of each glass without touching the sides, to prevent splashes burning on during cooking.
2: Put in the oven, and add hot water to the dish. Cook for about 50 minutes, until cream is just set.
Remove glasses from water and leave for 2 hours to cool to room temperature, then put in the fridge.
3: Cut 4 Pears into small dice, and pour over juice of ½ lemon.
4: Put 4 tablespoons maple syrup in a pan on medium heat, add the diced pears.
5: Cook on medium heat until all liquid has evaporated. You can cook it a little longer if you like a caramelised flavour. Leave to cool as for the cream.
Prepare 200 ml Chocolate mousse and 200 ml Chantilly cream.
6: Begin assembly:
Add a tablespoon of cold diced pears to each glass, to about the same depth as the bottom layer.
7: On the pears, add the same depth of chocolate mousse (using a teaspoon or a forcing bag).
8: On the chocolate, add a layer of whipped cream, again using a forcing bag.
Sprinkle with a pinch of cocoa powder to finish.
Remarks
This dessert can easily be prepared the day before, and be kept in the fridge until serving. Even so, I advise you to prepare and add the final layer of whipped cream the last minute if possible.
---
January 25th 2021.