Calissons
A recipe from
cooking-ez.com
129K
5
3.8
February 12
th
2012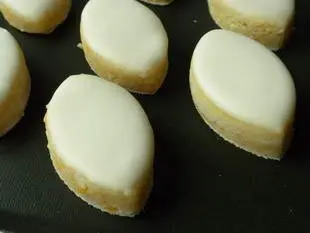 For 20 Calissons, you will need:
Times:
Preparation
1 hour 28 min.
Step by step recipe
1: Chop 50 g Candied grapefruit peel using food processor to produce small pieces of peel.
2: Stop the processor, then add 100 g ground almonds and 80 g icing sugar.
3: Switch on again and add the egg white a spoonful at a time until you have a smooth paste - calisson paste.
4: Spread the calisson paste out roughly on a sheet of rice paper laid on a chopping board.
Put the paste between two rulers 1cm (0.4 inch) thick, simple iron bars in this case, but use anything you like (wood, plastic...).
5: Place a sheet of cooking parchment on top of the paste.
6: Roll out the paste, guided by the rules either side, into a very even sheet.
7: Cut out the calissons with a cutter, pressing down really hard (I give a light hammer blow on the top) so that you also cut through the rice paper underneath.
8: Gather all the offcuts of paste, roll out again on the remaining piece of rice paper and cut out more.
Continue unti you have used up all the calisson paste.
9: Prepare 125 g Royal icing.
10: Dip the top of the calisson (the side without rice paper) in royal icing. You can stick it on a fork to make this easier, but this isn't essential.
11: Wipe off any excess icing on the sides with your finger and place the calisson on a baking sheet.
You will notice how, after a few seconds, the royal icing becomes smooth once the calisson is laid flat.
Do this with all the calissons.
12: Leave to dry exposed to the air for 2 days, until the royal icing turns hard.
Your calissons are ready.
Remarks
Traditional calissons normally contain candied melon and orange.
If you are in a hurry, rather than waiting for 2 days, you can dry the calissons in a cool oven at 50°C (122°F) until the royal icing forms a crust.
---
December 8th 2023.