Chocolate mousse
A recipe from
cooking-ez.com
449K
4.7
February 21
th
2011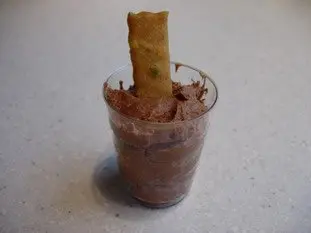 For 4 people, you will need:
Times:
| Preparation | Resting | Cooking | Start to finish |
| --- | --- | --- | --- |
| 20 min. | 10 min. | 10 min. | 40 min. |
Step by step recipe
1: Break 120 g dark chocolate in small pieces in a pan, and melt on very low heat or in a bain-marie.
2: Stir with a spatula or a maryse during melting.
Remove from heat before chocolate is totally melted, and continue stirring until it is.
3: Add 60 g butter cut in small pieces, and continue to stir...
4: ... until you get a nice smooth shiny chocolate.
5: Add 2 egg yolks, and continue to stir until completely mixed.
6: Leave the chocolate to cool a few minutes. We do that to be sure that it will not be too hot when added to the beaten egg-whites.
7: Beat 3 egg whites with the pinch of salt and ½ teaspoon lemon juice.
Halfway through add 2 tablespoons caster sugar to make firmer and brighter white.
8: Take about 2 tablespoons of beaten egg-whites and add them to the chocolate.
9: We do that to make chocolate lighter, easier to add to the remaining egg-whites.
10: Pour the "light" chocolate into the remaining beaten egg-whites.
11: And finish the mousse by folding in gently.
For this, it's best to tip the bowl and to turn with the maryse from top to bottom, lifting the mixture each time.
The goal is to succeed in mixing the egg whites into the chocolate without letting them "fall", so making a beautiful light mousse...
Refrigerate for 2 hours before serving.
Remarks
To reinforce the chocolate taste with something stronger, you can add two or three tablespoons of strong coffee to the pan after the butter.
---
June 29th 2022.