Crêpes Suzette
A recipe from
cooking-ez.com
112K
4.2
February 28
th
2013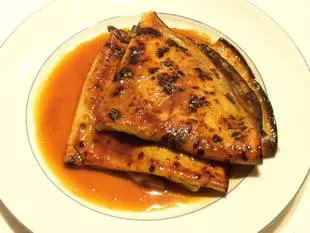 For 4 people, you will need:
Times:
| Preparation | Cooking | Start to finish |
| --- | --- | --- |
| 39 min. | 9 min. | 48 min. |
Step by step recipe
1: Squeeze the juice of 4 oranges. This should give you about 300ml.
2: Add to oranges juice 3 tablespoons Grand Marnier and 50 g caster sugar, mix well, cover and set aside.
You can add the juice of ½ lemon if you wish to sharpen up the orange flavour.
3: Put into a food-mixer bowl: 100 g butter, 90 g caster sugar, 10 g Vanilla sugar and 2 tablespoons Grand Marnier.
4: Start mixing on slow speed...
5: ...until evenly mixed: the orange butter or "Suzette butter".
6: Fill each pancake with 2 knobs of butter and fold over into a triangle.
This short video shows you how.
7: Prepare all the pancakes like this.
You can do this stage beforehand, even the day before, and keep the pancakes in the fridge, wrapped in stretch plastic film.
It will remain some Suzette butter, it's fine.
8: Shortly before serving, melt the remainng Suzette butter in a large frying pan.
9: Add the pancakes to the frying pan and cook them to caramelize slightly (do this in batches if necessary) on both sides.
10: Pour the orange juice into the pan.
11: Leave for a few minutes to reduce and thicken.
12: Transfer the pancakes onto the serving plates, pour the orange syrup over and serve immediately.
Remarks
If you don't have any Grand Marnier, you can use another orange liqueur, such as Cointreau.
If you enjoy the contrast between hot and cold, serve with a scoop of
vanilla ice cream
.
Crêpes Suzette are not normally served 'flambé'.
In Brussels, Belgium, in the brasserie "Aux armes" you can taste "crêpes Comédie Française" which are pancakes with butter Suzette, Flambed with Mandarine Napoléon and vanilla ice-cream.
---
November 27th 2021.