Frozen Nougat
A recipe from
cooking-ez.com
263K
4.7
February 21
th
2011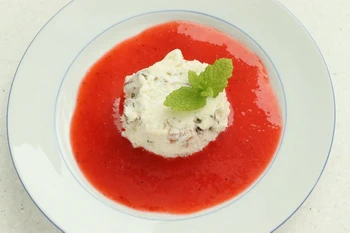 For 2 Frozens Nougat, you will need:
Times:
| Preparation | Cooking | Start to finish |
| --- | --- | --- |
| 1 hour 18 min. | 10 min. | 1 hour 28 min. |
Step by step recipe
1: Make whipped cream (Chantilly) with 200 ml liquid cream and 10 g Vanilla sugar, then keep in fridge.
2: Put 2 sheets gelatin in a bowl of cold water.
3: Toast 80 g whole almonds and 80 g pistachios by putting them on a baking sheet.
4: And put in hot oven 200°C or 392°F for 3 - 5 minutes. Watch this carefully: almonds and pistachios should not be too browned.
5: Once cooled, coarsly blend or chop almonds and pistachios. Set aside.
6: Cut 80 g dried apricots into fine strips.
7: Cut strips again in small dice.
8: Put 80 g raisins in boiling water and leave to swell 5 minutes.
9: Warm (in microwave for instance) 2 tablespoons rum.
Drain gelatin, dry it on a teatowel, then dissolve in warmed rum.
Set aside.
10: Prepare 350 g Italian Meringue, and while you finish beating, add gelatin in rum a spoonful at a time.
11: Add raisins and apricots to meringue.
12: Then almonds and pistachios.
13: And finally whipped cream.
14: Tilt the bowl and fold the ingredients gently into the meringue.
15: Cover the base of a cake mould with a plastic film to make turning out easier.
16: Fill the mould with mixture without pressing down, it should remain light.
17: Fold over plastic film on top, and put in the freezer overnight or longer.
18: On the day, slice the nougat and serve on a plate, surrounded with a little raspberry coulis, and with a mint leaf and/or piece of crystallized grapefruit on top.
Remarks
Any kind of dried fruits can be substituted: instead of apricots, raisins, almonds and pistachios you can use walnuts, hazelnuts, prunes, bananas, etc.
Same thing for the coulis, it can be made with strawberries, blackberries, blackcurrants,... I really recommend you use something slightly acidic to contrast with the sweetness of the nougat.
For the meringue you have two possible methods:
You can choose one or the other. My preference is for the more delicate Italian meringue, more diffcult to do, but much smoother.
---
December 8th 2023.