Ice-cream Vacherin
A recipe from
cooking-ez.com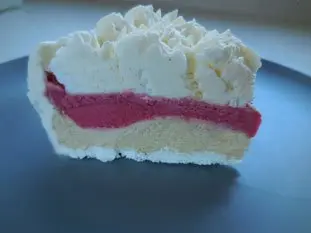 For 6 people, you will need:
Times:
| Preparation | Resting | Start to finish |
| --- | --- | --- |
| 45 min. | 8 hours | 8 hours 45 min. |
Step by step recipe
1: Preheat the oven to 210°F (100°C).
You will need a cake tin, dessert ring or plate about 23 cm (9 inches) in diameter to draw round. Draw 2 circles on a sheet of cooking parchment.
2: Make a meringue with 90 g egg white and 150 g caster sugar.
3: Turn the paper with the circles on over and fix down onto a baking sheet with a small dab of meringue at each corner.
4: Use a forcing bag to pipe 2 neat discs of meringue using the circles on the paper to guide you.
The professionals start from the centre and work outwards in one elegant gesture, but for amateurs like us, it is easier to start from the outside and finish in the centre, like in the photo.
5: If there is any meringue left over, you can fill up the spaces on the paper with small meringue shapes to serve to your guests with coffee. Cook in the oven for 4 to 6 hours. For more details, see the recipe for meringues.
6: Lay a sheet of cooking parchment of a baking sheet, stand the dessert ring on it and place a circle of meringue in the bottom. Put this in the freezer for at least one hour.
If you do not have a dessert ring, you can use a strip of card wrapped in aluminium foil and bent round to the correct size.
7: Remove from the freezer and spread a layer of blackcurrant sorbet on the meringue base to about halfway up the side of the ring.
8: Follow this immediately with a second layer of vanilla ice cream.
9: Finish with the second circle of meringue on top and press this down to sit firmly on the filling. It doesn't really matter if it cracks or breaks slightly.
Put the vacherin back in the freezer for at least 4 hours.
10: Take the vacherin out of the freezer and remove the ring. This is easier if you slip a knife blade around the edge.
11: Use a forcing bag to pipe small whorls of Chantilly...
12: ...all over the top of the vacherin.
13: Finish around the edge with a flat nozzle if you have one...
14: ...and cover the outside. You can pipe a "cord" around the bottom of the vacherin if you wish.
If you don't have a flat nozzle, you can use a palette-knife to spread the cream around the outside.
15: Put the vacherin back in the freezer for at least 2 hours bafore serving.
Remarks
The vacherin will have a delightful eating texture if you get it out of the freezer and transfer it to the fridge 30 minutes before serving.
---
May 26th 2020.