Lemon and grated apple tart
A recipe from
cooking-ez.com
44K
3.7
September 29
th
2019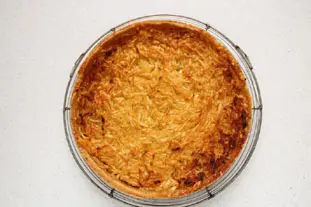 For 1 tart, you will need:
Times:
| Preparation | Cooking | Start to finish |
| --- | --- | --- |
| 52 min. | 50 min. | 1 hour 42 min. |
Step by step recipe
1: Melt 80 g butter in a small pan over low heat.
3: Squeeze the lemon juice and keep this handy.
4: Peel 1 kg 250 g apple.
5: Coarsly grate the apples...
6: ...and add to the bowl, drizzling lemon juice over each time to prevent the apple oxidizing and turning brown.
Prepare all the apples like this.
7: Pour any remaining lemon juice in with the apples. Add 100 g caster sugar, 10 g Vanilla sugar and the melted butter.
Mix well.
9: Pour the eggs into the bowl...
10: ...and mix again thoroughly.
Your tart filling mixture is ready.
11: Preheat the oven to 410°F (210°C).
Use 300 g Sweetcrust pastry (pâte sablée) to line a 9-inch (22 cm) tart tin or mould, following the tips here.
12: Fill the pastry case with the apple filling.
13: Bake for about 45 minutes.
Do watch towards the end of cooking to make sure that the top of the tart doesn't burn. If the top looks cooked before the underneath is done, cover the tart with a sheet of aluminium foil.
14: Leave to cool on a wire rack.
Serve cold or warm.
Remarks
For a more rustic touch, leave the apples unpeeled. Just rinse them well, then grate with the skins on. You can use
shortcrust pastry
instead of sweetcrust.
The combination of apples and lemon tends to give off quite a lot of juice so, if you are using a dessert ring, do watch out for this leaking onto the baking sheet.
---
June 9th 2023.