Like Bounty
A recipe from
cooking-ez.com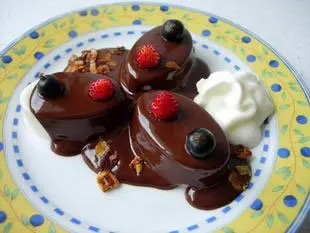 For 6 people, you will need:
Times:
| Preparation | Resting | Cooking | Start to finish |
| --- | --- | --- | --- |
| 44 min. | 1 hour 5 min. | 5 min. | 1 hour 54 min. |
Step by step recipe
1: Melt together in a pan over low heat: 250 g unsweetened coconut milk, 100 g liquid cream, 30 g caster sugar and 10 g Vanilla sugar.
2: When the mixture begins to simmer, add 4 g agar-agar and whisk to mix thoroughly. Bring back to simmering again while still whisking.
If you have an electronic thermometer, check that the mixture reaches 85°C (185°F) for the agar-agar to react.
3: Leave to cool for 5 minutes and add 2 tablespoons Malibu rum. Whisk again to mix thoroughly.
4: Pour the prepration into small moulds, preferably in silicon, which makes turning out easier.
Leave to set in the fridge for about an hour.
5: Prepare a chocolate sauce.
6: Arrange 3 coconut fondants on each plate (or whatever is appropriate for the size of mould used).
7: Coat with chocolate sauce and scatter 50 g Toasted flaked almonds over if desired.
Decorate with a few soft fruits or a little whipped cream (Chantilly).
8: To really surprise your guests, be sure to cover the fondant completely with the chocolate sauce, so that no white is visible and the coconut is discovered with the first spoonful.
Remarks
If you'd like the texture to be closer to the real Bounty, you can add a tablespoon or two of dessicated coconut to the mixture.
---
August 21th 2019.